Astrologer Jayanta Bhattacharyya – Astro Vastu Consultant Near Me and Astro Vastu Expert in Kolkata
Believe it or not, Vastu has a great impact on our minds, health, and live said by Astro Vastu Consultant. If a house or office or a commercial place is built abiding by the set of laws of Vastu Shastra, then it unlocks the flow of positive energy in your place with continuity of success, profit, and fortune. Vastu is a holistic science of architecture and it ensures harmony with the entire universe along with the flow of energy from every source. On the other hand, astrology is the study of planetary positions and aspects in horoscopes of natives irrespective of zodiac science, and it has a major impact on the everyday events of human affairs as well as lives. While astrology gets combined and applied with Vastu; it is called the Astro-Vastu.
Astro-Vastu helps natives to know their favorable place/space (at the home, office, or business place) to draw success and overall growth in a rapid way. Astrologer Jayanta Bhattacharyya has been offering Astro-Vastu consultation to people for years. He helps people to know how to attract luck, prosperity, and success via Astro-Vastu tips. He is one of the best Astro Vastu consultants in Kolkata and his consultation is affordable.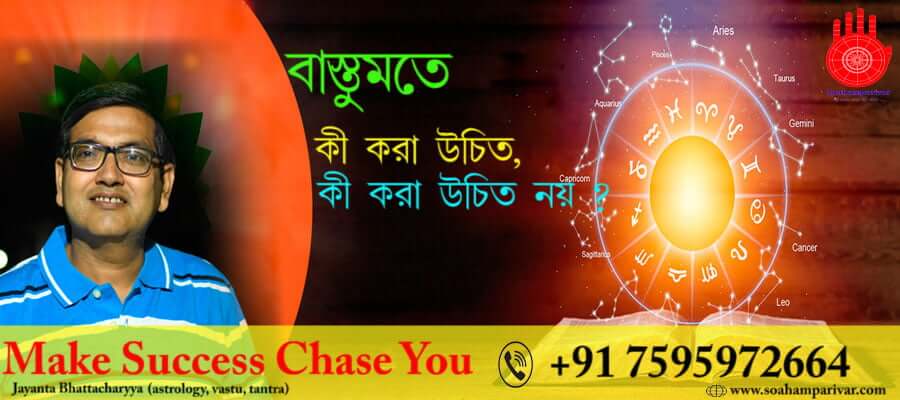 Expert Astro Vastu Consultant in Kolkata – Astrologer Jayanta Bhattacharyya
Astro-Vastu is an exclusive conception. The conception combines the Vastu floor plan along with the personal birth chart of natives to offer accurate solutions for the place where the natives live or work. The solution helps to engage success, ensures peace and harmony in mind and body, earns wealth, and positive energy of nature at the places where natives dwell in or work at. Astrologer Jayanta Bhattacharyya is a renowned Astro-Vastu expert in Kolkata and he offers customized Astro-Vastu consultations to people for the best outcome. If you are the one who wants to have the best and personalized solution for the place you live or do business or you have an office, then please don't hesitate to contact Mr. Jayanta Bhattacharyya for an excellent Astro-Vastu consultation.
Astrologer Jayanta Bhattacharyya is known for his precise consulting power that he completes with intense analysis of the birth chart and Vastu mapping of the place where his client lives or works. He suggests customized Astro-Vastu remedy for individuals based on the birth chart and Vastu table.  Vastu and astrology are linked with each other. So, if you want to prosper and get rid of troubles, obstacles, failures, and personal or professional issues of your life then Astro-Vastu consultation by expert Astro-Vastu consult Jayanta Bhattacharyya is an absolute key to your happy and prosperous life.
Personalized Astro-Vastu Consultation for Home & Workplace
Astro-Vastu specialist Jayanta Bhattacharyya analyzes the place where the person lives or works along with his or her birth chart to discover which direction offers happiness and success, and which direction is responsible for troubles. Then he offers remedies for the best result. For the best and undoubted search astro vastu consultant near me in google, he does consultation in separate ways.
For Residential Astro Vastu Consultation: He does a thorough analysis of the horoscope of the head of the family along with the Vastu design of the house/flat/apartment. Then he comes up with the best solution.
For Commercial Astro Vastu Consultation: He analyzes the birth chart of the owner of the place (whether it is an office/shop/business place, etc) along with the Vastu design of the plot.
Jayanta Bhattacharyya is an astro vastu expert in kolkata who rarely recommends demolition or reconstruction of any existing structure. Rather, he suggests a few changes in the position of objects in your place (home/workplace) to welcome the flow of positive energy with success and gain. He suggests remedies instead of reconstruction or demolition.
Astro Vastu Consultant of Repute in Kolkata
Astrologer Jayanta Bhattacharyya is a friendly person and he listens to the problems of his clients with patience and without interruption. It is his down-to-the-earth personality and approach that draws clients to his chamber. He is one of the most notable and trustworthy Astro Vastu consultants in India and you can count on his Astro-Vastu remedies without any single doubt.
Whether you want to have an sr astro vastu consultation for your home or for the place you run your business, sr astro vastu consultant in kolkata Jayanta Bhattacharyya is just one call away. You can book appointment online or drop an email now.
Best of luck!
If you want to have the proper Astro-Vastu consultation from Mr. Jayanta Bhattacharyya then you should carry the owner's birth chart with the house plan. If you don't have the birth chart of the owner then Astrologer Jayanta makes the birth chart with the date of birth of the owner and provides you the Astro-Vastu consultation. It is as simple as that.
Yes, you can get the Astro-Vastu consultation to ensure happiness, positivity, and prosperity at your home despite your home is not in your name. Just bring the horoscope of the person who is the owner of your home along with the Vastu design/plan of your home/flat/apartment. Astrologer Jayanta Bhattacharyya will give a flawless consultation without any doubt.