Astrologer Jayanta Bhattacharyya – Shani Sade Sati Remedy Specialist in Kolkata
Call him preacher, teacher, judge, punishment giver, a spiritual guru, slow walker, or planet of fear – he is Shani. Also known as Saturn. Fear arouses in the mind when we talk about or think of Saturn and the way he punishes sinners. Shani is hired to take care of justice and punish sinners as Lord Shiva asked for. Sade Sati period is one of the ways by which Shani Dev purifies living souls putting them in hardship. Whether you do suffer in Sade Sati or not, it can be said with placement of Saturn in your horoscope. To get rid of the above effects Shani Sade Sati Remedy is one of the best.
If your Saturn is malefic or it forms a malefic yoga in your chart. Then it is time to consult with Shani Sade Sati remedy specialist in Kolkata – Astrologer Jayanta Bhattacharyya.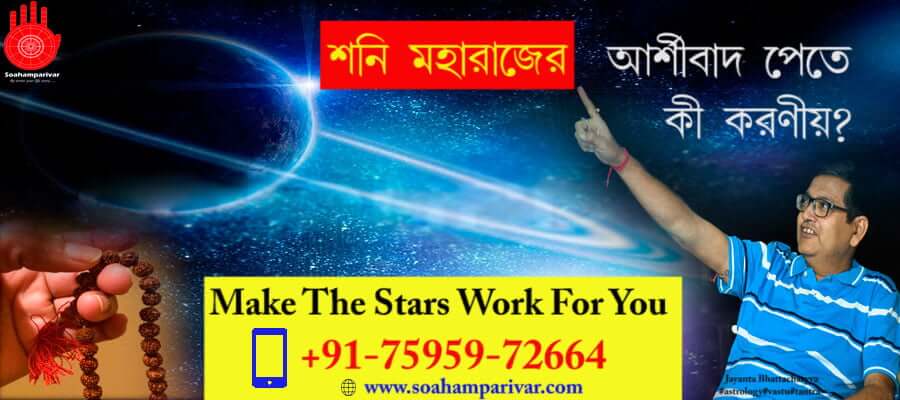 Sade Sati Remedies by Astrologer Jayanta Bhattacharyya
Astrologer Jayanta Bhattacharyya helps people to dodge the negative effects of Shani Sade Sati with effective and authentic remedies. He believes, the bad effects of Saturn during Shani Sade Sati can be reduced. If you can carry out a few rituals and totkas, and count on exact remedies on time. He suggests performing the rituals and taking remedies before emerging of Sade Sati when you desire only the best consequences.
According to Mr. Bhattacharyya, Saturn makes people undergo hardship to test introspectiveness, sincerity, level of honesty, genuineness, patience, perseverance, and spirit to fight back in inputting them into struggles, obstacles, challenges, monetary issues, health issues, mental anxiety, and so on. Though, it is not right that Saturn is a planet to play rude only. If you take every step carefully during Sade Sati according to the disciplines of astrology then you can overcome the period with flying colors. Just you need to have a genuine astrologer in Kolkata like Astrologer Jayanta Bhattacharyya beside you to guide you the right way to pacify the malefic and harsh effects of Saturn.
What Is Shani Sade Sati and its Effects?
Saturn or Shani Sade Sati is a period of 7 and half years (7 years and 6 months). Though, the period gets increased due to the indirect (Bakri) movement of Saturn during its transit through the 12th house, 1st house, and 2nd house from the moon in your birth chart. Sade Sati phase is divided into three phases – rising phase (Saturn is in 12th house from Moon), peak phase (Saturn is with Moon, the 1st house from Moon), and setting phase (Saturn is in 2nd house from Moon). The peak phase is very difficult compared to the other two phases.
Sade Sati is a period of exams. Saturn makes everyone moves through various difficulties of life from financial to family issues, health to professional issues, losses of friends, relatives, close ones, and so on. But you can pass the phases if you take the best Shani Sade Sati remedy at the right time. Call Astrologer Jayanta Bhattacharyya if you are undergoing Sade Sati and you do want to get rid of your suffering. Astrologer Jayanta is always there for his clients with his best pieces of advice, astrological remedies, and tips.
Best Shani Sade Sati Remedy at Soahamparivar in Kolkata
Astrologer Jayanta Bhattacharyya provides Shani Sade Sati remedy according to moon sign, ascendant, and present Dasha of a native. All his remedies are effective and offer the desired result at less downtime. He offers personalized Sade Sati remedy – from Shani Santi Puja to other essential methods after an in-depth analysis of Saturn's placement in a native's birth chart. He is always honest in his approach and offers effective remedies to make his clients stay happy and prosperous in life regardless of challenges and hardships.
So, if you are looking for the best and authentic Shani Sade Sati remedy expert in Kolkata for you, your friend, and your family then do call Astrologer Jayanta Bhattacharyya.  He is just one call away.
Get your appointment fixed now!