Astrologer Jayanta Bhattacharyya – A Famous and Best Vastu Shastra Consultant in Kolkata
Believe it or not, Vastu has a great role in our mind, body, and entire life. Connect our best Vastu Shastra Consultant in Kolkata to get solution for all type of vastu shastra problems.  It is a science of architecture and a proven method to bring happiness and good luck. According to Vastu Consultant in Kolkata, every ought to face a certain direction to bring positivity to your place. If you try to understand the rules and calculations of Vastu Shastra, then you will end up with a logical view for sure. Astrologer and Vastu shastra expert Jayanta Bhattacharyya has been in the realm of offering Vastu consultancy in Kolkata for years. He is always overjoyed to help his clients to show the path of success under the magnifier of Vaastu.
Anyone who wants to get benefited from genuine Vastu consultancy for a residential or commercial place. Contact Vastu consultant in Kolkata – Mr. Jayanta Bhattacharyya.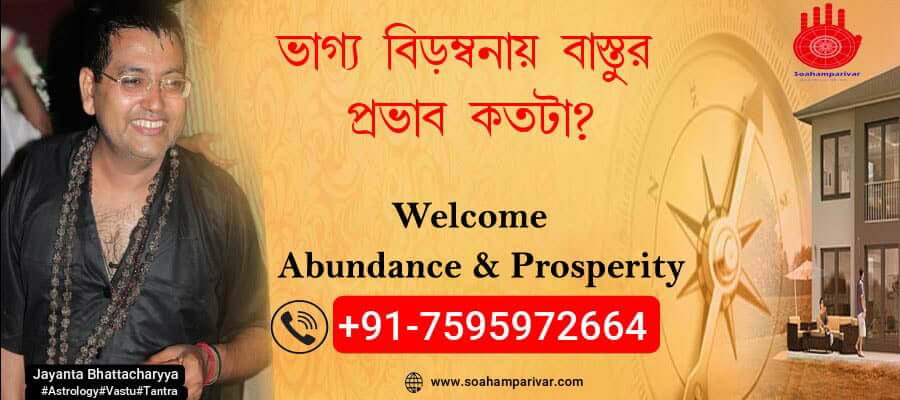 Residential & Commercial Mahavastu Consultant in Kolkata
Vastu Shastra is a science that abides by a set of rules followed mahavastu consultant in kolkata. From ancient days it is known that one should follow the Vastu Shastra during construction of a building. Be it a home, factory, shop, office, school, college, to name a few. A residential or commercial property construction that gets processed following the rules of Vastu always ensures healthy living. At Soahamparivar, the best Vastu consultant in Kolkata. Mr. Jayanta Bhattacharyya has been guiding his clients with the customized Vastu consultancy for years. He believes, constructions that are done according to Vastu Shastra endow the dwellers and users with several benefits. If you are the one who needs Vastu consultancy before building your residential or commercial building, don't hesitate to contact the famous Vastu consultant in Kolkata, Astrologer Jayanta Bhattacharyya, without doubt.
Astrologer Jayanta Bhattacharyya – Top Vastu Consultant in Kolkata
Astrologer Jayanta Bhattacharyya has a brawny belief in Vastu Shastra and its miraculous power to present positivity, happiness, and success to humans and the surrounding. He believes, the universe is here to take care of our needs and wants us to live happy, healthy, and prosperous. We just need to have the eyes to get the way to find our happiness and boon. Where general eyes are unable to find the holy truth of the universe that continuously tries to improve our living with holy grace, we need eyes to guide us to reach our destination of peace, calm, and happiness.
Mr. Jayanta Bhattacharyya is a person who wants his clients to live happy as well as successful and the way he guides his clients with Vastu tips and consultation is beyond genius. He goes a few extra miles to help his clients with Vastu tips and behaviors and help them attain endless happiness with their new or existing residential, commercial, and industrial properties. His in-depth knowledge of Vastu Shastra and ardent interest to know new are always proven favorable and beneficial for the people who visited him to date. He is a vastu shastra consultant in Kolkata who rarely suggests demolition or re-construction to his clients. Rather, he always suggests reasonable and alternative ways to improve or correct the Vastu for the properties which are already built.
Genuine and Good Vastu Consultant in Kolkata – Jayanta Bhattacharyya
Being a renowned Vastu consultant in Kolkata, Astrologer Jayanta has worked with hundreds of thousands of clients up to now. Whether it is a residential Vastu or commercial Vastu, Astro Vastu or industrial Vastu. He has a proven record helping his clients to achieve only the best outcome. His Vastu consultancy is not limited to Kolkata clients. But he has helped clients from Mumbai, New Delhi, and Bangalore to secure healthy living with a positive mindset.
For people who are about to buy a plot for a new home, commercial or industrial building and seeking genuine Vastu consultation. Vastu expert Jayanta Bhattacharyya is just one call away. He has been practicing Vastu Shastra for years. He feels glad to show the right direction counting on his knowledge and expertise in Vastu Shastra. His patience, friendly nature, listening skill, and poised attitude towards his clients to understand their issues, needs, and demands help him bridge the gap between him and his clients.
Vastu Consultant in Kolkata at Your Fingertip
At last, if you are the one who is looking for a reliable, reasonable, and surefire Vastu consultancy. Then book an appointment with Astrologer Jayanta, the best Vastu consultant in Kolkata.
Of course not! When you count on the famous astrologer in Kolkata, Astrologer Jayanta Bhattacharyya; you can rest assured to have an outstanding and result-driven Vastu consultation for your home/commercial place with near-zero demolition or reconstruction needs.
Site visiting was mandatory for Vastu consultation when there was no housing plan available. But, time got changed. Nowadays, with the latest technology, tool and floor plan, accurate direction, dimension, and measurement are available for online Vastu consultation. Hence, you can certainly get the best Vastu consultation in Kolkata by vastu expert Mr. Jayanta Bhattacharyya sitting at your place, online.