Astrologer Jayanta Bhattacharyya – Online Black Magic Protection and Removal Puja Expert
Believe it or not! The practice of tantra-mantra or black magic has existed for centuries. Many countries believe in it, and they rather prefer to call it witchcraft instead of black magic, and India is not an exception. To date, many people irrespective of caste and creed, literate or illiterate, and theist or atheist believe that black magic does exist and many people take advantage of black magic to take revenge or to harm others mentally, physically, as well as financially.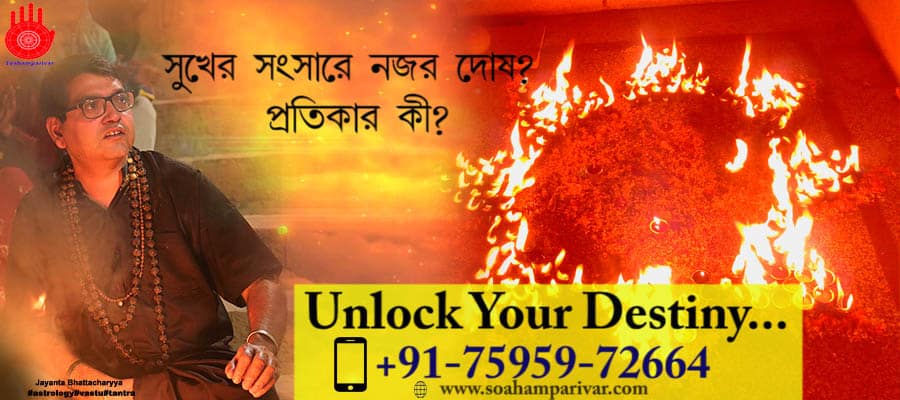 Signs of Black Magic if Anyone Affected With
When there is a will, there is a way – the phrase is known to all. So, if you find yourself or your family confined in such a trap and you have been facing
Financial loses,
A dispute at your home with no reason,
Dispute or disagreement among business partners
Sudden job loss, a big loss in your business
Customers do not visit your shop instead of getting good service and products
Frequent health issues without any cause
Irritation and discomfort in mind and body
Sleeplessness,
Unknown Fear
Your pets are dying for no reasons
Scary dreams for a long time and to name a few
then it is time to visit online black magic removal puja expert, Astrologer Jayanta Bhattacharyya. He has been performing black magic protection puja for many years and the list of satisfied clients is proof of his excellence and success in this domain. Call him now to get an appointment for black magic protection puja.
Why Perform Black Magic Removal Puja?
If you or your family or your business gets affected by evil power/black magic/witchcraft then black magic protection puja by Astrologer Jayanta Bhattacharyya is the key to get rid of evil power. Black magic nibarak or protection bidhi protects you and your family from any kind of black magic spells and ensures healthy mental and physical states. It reduces obstacles in career, business, financial, and property-related matters that can be created by black magic spells.
Astrologer Jayanta Bhattacharyya has been helping hundreds of thousands of people who got affected by black magic and asking for help to get rid of evil eyes, evil powers, and black magic. He is reliable, genuine in offering black magic prevention puja and bidhis according to the planetary position of the natal chart of natives. If you are looking for such help, please feel free to contact Soahamparivar. Astrologer Jayanta Bhattacharyya and his team would be happy to help you.
Who Can Be Afflicted by Black Magic?
Natives who are born with a malefic planetary combination in their birth charts or have weak horoscopes tend to get affected by black magic. They easily get targeted due to their week characteristic.
Even if Rahu or Ketu gets in contact with Sun or Moon in your birth chart then it creates Grahan yoga and makes you vulnerable to black magic.
When Should Bhoot Pret Nivaran Puja be Performed?
Generally, on the night of Amavasya, the puja to the prevention of black magic is performed. Astrologer Jayanta Bhattacharyya  performs various pujas like Kaal Bhairav Puja, Durga Saptashati Puja, etc.
Benefits of Black Magic Removal Puja
Worshipping God and Goddess is always beneficial and black magic protection puja does the same for you.
You and your family can get rid of evil power
Live life happily and get success in business and career
Enjoy a healthy and happy mind with good health
Positive energy prevails at your home
Homam to Remove Black Magic by Astrologer Jayanta Bhattacharyya
Astrologer Jayanta Bhattacharyya is always genuine in his approach and remedies at cost-effective ways. He suggests Homam to remove black magic puja bid his after knowing the whole fact and reading the natal chart of his clients.
For persons who need black magic remedy or protection, Astrologer Jayanta Bhattacharyya is just one call away.