Astrologer Jayanta Bhattacharyya – Experienced Rahu Drishti Mukti and Rahu Dosha Nivaran Puja Specialist in Kolkata
Whenever we name the planet Rahu, it triggers fear in our minds. Though, Rahu is a shadow planet and it has no shape or visual existence. If you call it an imaginary point in the sky, then you are not wrong. However, Rahu is considered one of the most powerful entities in Vedic astrology. It has been allotted a commanding status by seers and sages. It is believed that Rahu habitually gives malefic impacts on natives, and it is somehow true. So, people who have been born with malefic Rahu in their birth charts are bound to suffer a lot.
But there is a way out. You can save yourself from the unfavorable influence of Rahu when Astrologer Jayanta Bhattacharyya is there for you. He is a well-known Rahu Dosh Nivaran remedies provider in Kolkata and he is just a call away.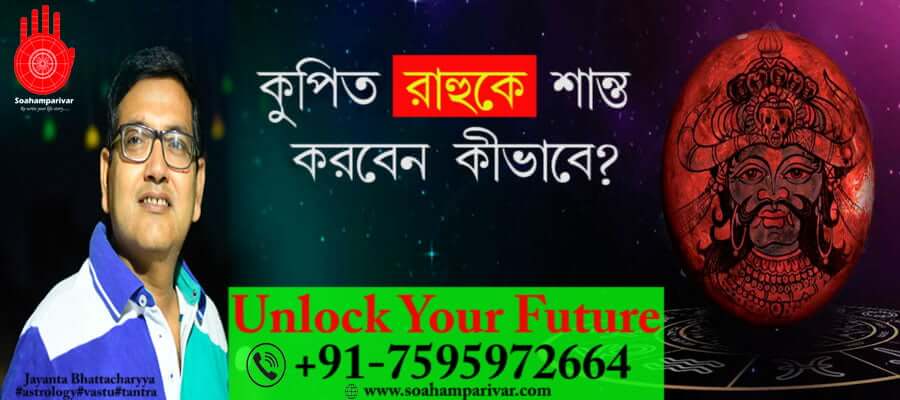 Rahu Drishti Mukti Puja Specialist in Kolkata – Astrologer Jayanta Bhattacharyya
Astrologer Jayanta Bhattacharyya has been in the domain of astrological consultation for years. To date, he has been helping hundreds of thousands of people with the malefic effect of Rahu with personalized Rahu Drishti Mukti remedies. He believes that every problem has a way out and people who have been suffering due to the malefic effects of Rahu can get rid of it if they count on the right remedy at the right time. So, if you are suffering because of Rahu and looking for 100% authentic Rahu Drishti Mukti remedy, then it is time to consult with Mr. Jayanta Bhattacharyya – the renowned Rahu Drishti Mukti remedy consultant in Kolkata. 
What a Bad Rahu and Its Impact Can Do?
Be it laziness, lethargy, delay, fear, cowardliness, selfishness, or psychosis, to name a few; a malefic Rahu can cause one or more of these to a native. When Rahu is strong in a native's birth chart but it is malefic; it can make him or her selfish as well as taboo breaker. There are lots more than that a malefic Rahu can do. Let us have a look at the outcomes if a native has weak Rahu in the birth chart or Rahu is afflicted (impacted you badly) or Rahu effect moon sign, Lagna, and other important houses at the birth chart,  
He or she may suffer from the loss of property; whether it is self-bought or ancestral property.
Inspire of good education and knowledge he/she cannot be able to grab a good job or maintain a good lifestyle.
His or her expectations will remain unfulfilled.
He or she will not get recognition in society.
He or she will experience loss in business and speculation.
He or she will get trapped in legal issues.
He or she spends unnecessarily on useless stuff.
He or she will be unable to pay debts despite the flow of income.
If proper Rahu Dosha is not cured then he or she will live his or her old age in loneliness.
So, if you are experiencing one or more than one issue stated above, then please don't hesitate to visit Astrologer Jayanta Bhattacharyya, the renowned Rahu Drishti Mukti remedy specialist in Kolkata.
Consult With Rahu Dasha Nivaran Upay Specialist at Soahamparivar
Astrologer Jayanta Bhattacharyya is renowned for offering genuine consultations for years. He does the same when it is all about getting relief from the bad effect of Rahu on your mind, health, and life. Whether it is your professional life or personal life, family issue or marital issue due to bad placement or bad aspect of Rahu in your birth chart; Astrologer Jayanta Bhattacharyya is here to get you out from the problem. His skill of birth chart analyzing and knowledge to provide the best Rahu Drishti Mukti Nivaran Upay (Puja, Homam, Mantra, and Tantra tips and totkas) have helped so many clients to date.
Just give him a call or book your appointment online. Astrologer Jayanta Bhattacharyya is here for you always. Let his personalized remedy transform your life into a happy and healthy state.
Best of luck!