Powerful Solution for Delay in Marriage By Astrologer Jayanta Bhattacharyya
Today, getting married at a marriageable age is not as simple as it sounds. Both men and women prefer to settle down in career before tying the knot. In present society, objective of building a career and achieving success surpasses the importance of getting married irrespective of gender, caste, creed. But what if you don't belong to the aforesaid group? What if you are getting worried because of not getting married on time? Here you get remedy of delayed in marriage solution.
"Why am I not getting married?" – If this is the question to cause problems in your life then it is now time to consult with a delayed marriage solution expert in Kolkata – Astrologer Jayanta Bhattacharyya. Astrologer Jayanta Bhattacharyya has years of experience in handling delay in marriage problems for his clients. People who come to Mr. Jayanta Bhattacharyya with delay in marriage issue always have the best solution and get rid of delayed marriage glitches. So, if you are on the verge of delayed marriage and your marriage gets delayed for a reason or another then consult with Astrologer Jayanta Bhattacharyya, the best delay in marriage expert in Kolkata.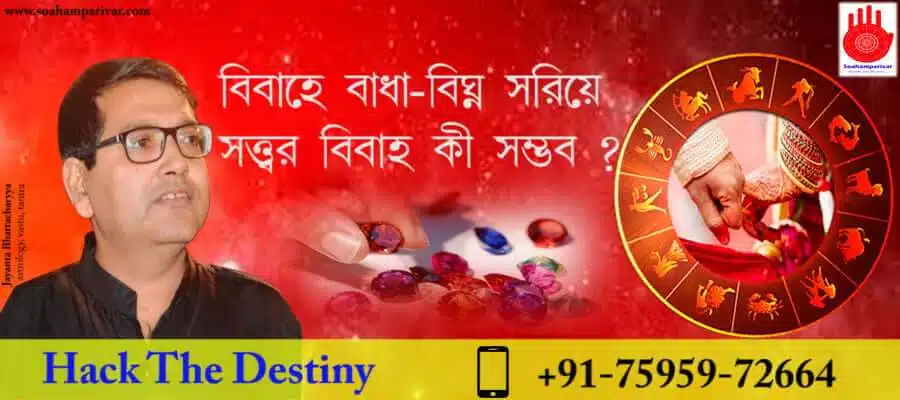 Delay in Marriage Solution Expert – Astrologer Jayanta Bhattacharyya
Astrologer Jayanta Bhattacharyya has been in the field of astrology for years. He has come across different clients and cases to date. Delay in marriage is one of the most discussed issues for parents these days. According to Mr. Bhattacharyya, delay in marriage is sometimes beyond astrological explanation when natives lack the interest in getting married due to fear of taking responsibility, poor economical condition, backbiting of ill-minded relatives, inferiority complex, and so on. But, Astrologer Jayanta Bhattacharyya has every key to resolve the late marriage issues for his clients. Whether he needs to opt for an astrological remedy or Puja remedy; he suggests the best to resolve the late marriage issue in reasonable ways.
Pooja for Marriage Problems by Astrologer Jayanta Bhattacharyya
His friendly behavior, well-bred nature, and poised attribute make a room for his clients to open up when they are struggling to get married at the right time. He always plays a role as a guide, friend, and solicitor rather than behaving as a strict professional. He believes that to uproot the cause of a problem you need to go deep, and he does the same while conversing with his clients regardless of the late marriage issue. Mr. Jayanta Bhattacharyya analyzes the whole scenario of late marriage issue step by step,
First, he analyzes the birth chart of the native
He considers the planetary combination along with the planetary transits and placement of present time.
He takes account of Dasha and antardasha of the native and relation of Dasha ruler with the 7th house lord.
He analyses the placement of malefic planets (Saturn, Rahu, Ketu, and Mars) in the birth chart and Navamsha chart.
He does an in-depth analysis of Saturn's placement in birth chart. As Saturn plays an important role in causing delay in marriage.
Moreover, Astrologer Jayanta Bhattacharyya performs various Pujas to solve the delay in marriage issue at Soahamparivar. Pujas he performs are,
Mangla Gauri Puja,
Katyayani Puja,
Gauri Puja,
Gauri-Shankar Puja,
Tripura Sundari Puja
Kamakhya Devi Puja
Pooja for marriage problems is performed according to planet and planetary combinations that cause the delay in marriage for natives.
Powerful Solution for Delayed Marriage for Boy and Girl at Soahamparivar
Astrologer Jayanta Bhattacharyya is a renowned delay in marriage solution expert in Kolkata and has been offering remedies for the same for years. He applies astrological, Vedic, and tantric remedies to cure the late marriage wound without any negative impact.
If you want a powerful solution for delayed marriage then Astrologer Jayanta Bhattacharyya is just one call away. So fix an appointment, discuss your delay in marriage issues. And get the best astrological/Vedic/tantric remedy at a quick turnaround with assured transparency in service.