Graha Shanti and Navagraha Puja with Vedic Standard by Astrologer Jayanta Bhattacharyya at Home
Almighty is ubiquitous. We believe him with full devotion, love, and religious gestures to be blessed with a boon. Graha Shanti Puja is one of the gestures that people perform since ancient times to please grahas or planets, we literary know as celestial/heavenly bodies. Our natal chart is influenced by nine grahas (Sun, Moon, Mercury, Jupiter, Mars, Saturn, Venus, and two shadow planets – Rahu and Ketu), and each graha is ruled by a specific god or goddess. Hence, performing Navgraha Santi Puja at your place is considered auspicious and it welcomes positive energy along with goodness and prosperity in life in all respects.
Graha Shanti Puja/Nabagraha Puja/Nakshatra Puja at home by experienced Astrologer Jayanta Bhattacharyya not only helps to create a positive ambiance at your place but also reduces the bad effect of Graha Dosha if prevails at your natal chart.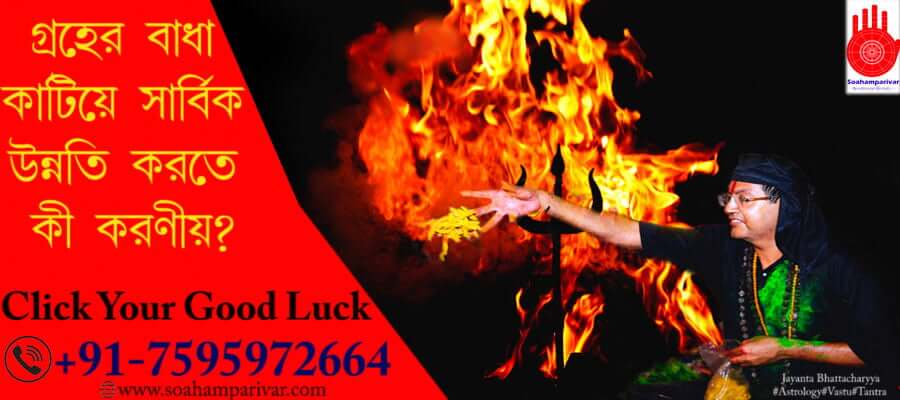 Why Should You Perform Graha Shanti Puja? Know the Benefits
It is not always our bad karma or personal and professional issues that endow our lives with anxiety, stress, and dissatisfaction; it is the planetary movements, planetary combinations, and Dasha (Mahadasha and Antardasha) Kaal of graha, or graha dosha that equally takes part in creating dispute in our lives.
Graha Shanti Pooja abiding by vedic norms and rituals by a professional and veteran astrologer reduces the cruel effects of graha dosha.
It increases the positive flow of energy and goodness in a person as well as his family and leads life towards happiness, peace, and prosperity.
It prevents occurrence of evil events in life and obstructs the evil eye or obstacle to afflict your life, family, and success.
Astrologer Jayanta Bhattacharyya has been performing Graha Shanti Puja on behalf of his clients for years. He suggests the Graha Santi Puja according to the natal chart and the Dasha or Antardasha of his clients to ensure the best result.
When Navgraha Puja Can be Performed?
Navgraha Shanti Puja should be performed on a special day or Muhurat. You can directly consult with Astrologer Jayanta Bhattacharyya to know which the best time is to perform Navagraha Shanti Pooja according to your natal chart and graha Dasha you are undergoing.
If you are planning to enter a new home or getting married or to ensure a positive vibe at your home, you can perform Nabagraha Shanti Puja.
Who Should Arrange Graha Shanti Pooja?
Anyone can arrange Graha Shanti Pooja at his/her estimated place. Mostly, people who are suffering from a bad planetary combination (Shani-Mangal Yoga, Grahan dosha, Bhumi dosha, etc) or bad graha dosha in accordance with the natal chart, and undergoing issues related to family, health, wealth, marriage, property, job and to name a few, need to perform Graha Shanti Puja at home.  
Even, people who are undergoing Sadesati or Kalsarpo dosha can perform the same.
What Materials Are Necessary to Perform Shanti Puja?
The materials of Graha Santi Puja differ based on the graha or planet you need to worship. Though, the basic materials remain the same including flowers, sweets, fruits, and other Puja essentials. Do consult with Astrologer Jayanta Bhattacharyya before performing grahashanti Puja at your home for the best advice and guidance.
Things to Know to Perform Navgraha Shanti Pooja
It is widely said that you need to know which planet is afflicted in your chart and creates problems in your day-to-day life in personal and professional borders. You need to worship the God/Goddess who rules the graha that causes you bad results and consequences in life.
You need to have a fast to perform the Puja and arrange all the Puja materials at your place.
Wear clean clothes and avoid wearing black and leather accessories during Puja.
Keep the place clean and don't have non-vegetarian food after the Puja on that specific day.
It would be better if you donate food, clothes, and Prasad after the Puja among unprivileged persons and ask for a blessing.
Don't throw Puja materials in any place after Puja. You can flow them on flowing water or dig them in a pit at your place.
Book Online Graha Shanti Puja by Astrologer Jayanta Bhattacharyya
Astrologer Jayanta Bhattacharyya has years of experience performing online Graha Shanti Puja for his clients to date. He is punctual, genuine, and an astrologer of repute in performing different types of Graha Shanti Puja, maintaining all Vedic rituals at a reasonable price.
Book your appointment now with best astrologer in Kolkata!