Astrologer Jayanta Bhattacharyya Impacts Way of Success with Astrological Excellence
Astrology is not about any miracle or magic; it is about a method to predict the ordinary/mundane events that are truly counted on the postulation or notion created by celestial bodies, the planets, and the stars. Broadly, astrology is a method to interpret the effects and impacts of heavenly/celestial bodies on inhabitants of the earth, on human beings through several but methodological ways. Celestial bodies, better to say planets and stars impose the impact of goodness or ruthlessness via a systematic but fine mechanism on humans. Astrologers define this fine mechanism as planetary combinations, placement as well as the movement of planets from time to time and house to house (12 signs in astrology), and its innate impacts on human beings in a calculative manner.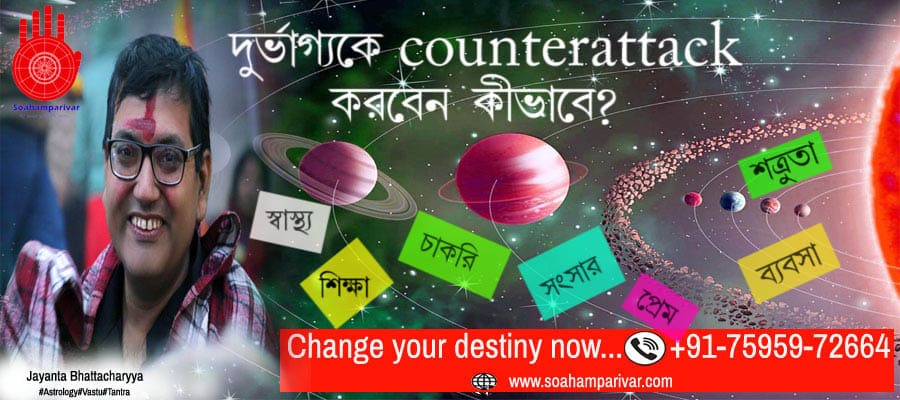 Famous Astrologer Kolkata – Astrologer Jayanta Bhattacharyya
Astrologer Jayanta Bhattacharyya is an astrologer of repute and he has been serving hundreds of thousands of clients from Kolkata, New Delhi, Bangalore, and Mumbai to date with his exhaustive knowledge and skill in astrology. His excellence in reading horoscopes, suggesting astrological and tantric remedies, and Vastu consultancy helped his clients to reach the aimed objectives of life with peace and happiness undoubtedly. Years he has been in the field of astrology, helps him to understand the problems of his clients in a better way and to suggest the best remedy that you hardly find anywhere else.
People visit astrologers to find out the unfound keys that help to unlock happiness, success, and prosperity in life. They want someone who can understand their pain due to the course of unsuccessfulness they underwent instead of efforts and non-fulfillment of desires they have been bagging on. They would like to sit by someone who listens to them without being judgmental or sarcastic. Astrologer Jayanta Bhattacharyya is an astrologer who lends his hands to his clients with complete patience, soberness, and down-to-the-earth attribute which allow his clients to unlock the pain they survive in the course of life without any hesitancy. Furthermore, Astrologer Jayanta Bhattacharyya comes up with the best astrological remedies for his clients and helps to bring light in life overcoming the darkness.
Astrologer of Repute in Kolkata – Astrologer Jayanta Bhattacharyya
Soahamparivar is the adobe of astrological consultation offered by Astrologer Jayanta Bhattacharyya. The main object of Soahamparivar is to re-write the story of people who are wandering in search of help to transform the darkness of their lives into cognitive success. Astrologer Jayanta Bhattacharyya is an usher who helps people to unearth the way towards success under the light of planetary combinations and placements scripted in their birth charts but subtle to be understood without an astrological eye.
He has not only mastered the skill of astrology but also has profound knowledge in Vastu and performing various Tantric pujas to welcome happiness and getting rid of evil power for his clients to date. His astrological services are not limited to reading birth charts and offering result-driven remedies. He performs various puja vidhis and offers Vastu consultancy on residential places, commercial places, and Astro Vastu. Anyone, asking for astrological remedies to bring back good luck and prosperity in life, Astrologer Jayanta Bhattacharyya is one call away.
Soahamparivar – One-Stop Astrological Solutions in Kolkata
Under the principle of Astrologer Jayanta Bhattacharyya, Soahamparivar counts on a holistic and comprehensive approach to helping his clients get rid of problems they go through in day-to-day life. Guided by a set of the ethical approach of astrology, we first take a look at the complete picture of clients' birth charts keeping in mind the present placement of the celestial bodies. It helps us to countermeasures the actual position of planets and their impacts on our clients, suggest the best astrological remedy, and bring back the happiness, wealth, success, and satisfaction in our client's life.
People who are in need of astrological help and remedies to conquer the battle of life in personal and professional realms feel free to contact Astrologer Jayanta Bhattacharyya. He is always there to help you out with his astrological knowledge and excellence.  He acts as an intermediate between his clients (who are astrology laymen) and the messages originated by the heavenly bodies to spread out the happiness and peace that is hidden deep down in the darkness and needs a hand to come out to ensure complete wellness.