Saturn is a planet that denotes your Karma and also have Saturn's Malefic Effects. Precisely to say, Saturn manages your Karma scorecard. If you do well, Saturn, the planet of Justice treats you well. If you do the opposite then you have to be prepared for the consequences as well. Malefic Saturn makes people suffer in many ways and it is called the effect of Shani Drishti. From health to mental peace, wealth to regular earning, savings to social reputation, and personal to professional life – everything goes through the scanner of Saturn when a native undergoes Dhaiya or Sade Sati. Shani Drishti Mukti Puja is one of the upayas/solutions that help natives to reduce the bad effects of Shani from life.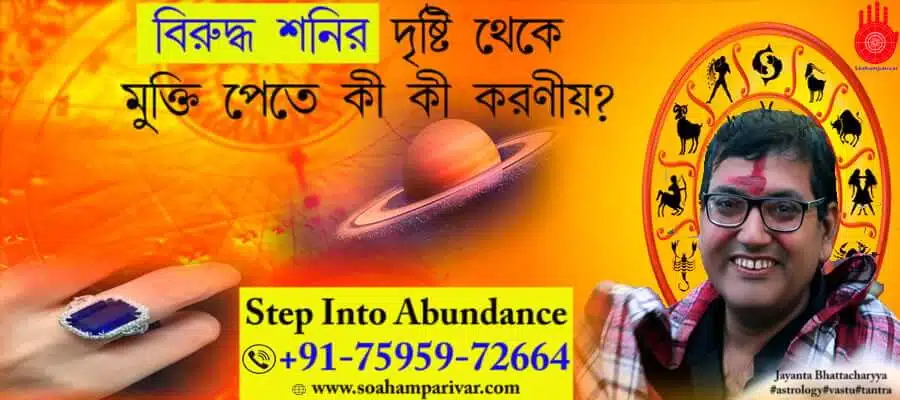 What Is The Causes Of Saturn's Malefic Effects?
Reasons can be many that Saturn's Malefic Effects can cause a native in many ways. In a birth chart,
If Saturn is placed in an enemy house or it is placed with enemy planets (Sun/Moon/Mars)

If Saturn is in the 6th/8th/12th house from ascendant or moon.

If Saturn is retrograde or placed with Rahu or Ketu.

If the native is undergoing Sade Sati or Shani Dhaiya.
If you are suffering from one or more than one issue mentioned above then you should get ready to arrange a Shani Drishti Mukti Puja at your home. Soahamparivar is a renowned astrological service that performs Shani/Saturn Drishti Mukti Puja for its clients for years. You can contact Soahamparivar or Astrologer Jayanta Bhattacharyya for the same.
How to Perform Puja?
You are not required to do anything for the Shani Drishti/Dosha Mukti Puja. Your astrologer will do all the things for you. Even, Shani Drishti Mukti specialist astrologer can perform the Puja at his place on your name. You just need to follow the tips to get benefited from the Puja against Saturn's Malefic Effects.
On the day of Puja take your bath early

Keep fast and break the fast after the Puja with fruits and sweets.

Try not to take non-veg on the day of Puja.

Wear clean clothes and keep yourself devoted to Shani Dev.
Thus, it is not mandatory to present physically when your astrologer performs the Puja of Saturn's Malefic Effects in your name and you have no provision to perform the puja at your place. Though, you can take part in the Puja via online modes if you are not able to reach the astrologer's place.
Putting It All Together,
Shani Drishti Mukti Puja helps you to get rid of all the troubles that Saturn causes. Hire the best astrologer to perform the Puja.
Find us on google map as Best Astrologer in Kolkata.